I watched the documentary, 'Standard Operating Procedure' last weekend; it wasn't exactly light entertainment. I took in a bottle of water; popcorn would have been disrespectful.
Two things struck me:
I didn't know they held children at Abu Ghuraib. I didn't know the army gave the soldiers there a two week amnesty to hand in(or destroy presumably) images.
I took a picture of myself before I left the house that day. I was thinking of the film I was to see and whether a photgraph could ever tell a full story. I ended up taking more than one; moulding the story I wanted to tell. Each one told a slightly different story.
The film made for uneasy watching; there is no satisfying ending; some of the photograph-takers are partly taking a record but still participating. It reminded me how easy it was for a negative culture to take hold.
The mention of the children at Abu Guraib reminded me of the school(now, the Tuol Sleng Genocide Museum) turned prison in Phnom Penh, Cambodia which saw 20,000 people come through it, only 7 surviving. Here too the Khmer Rouge took photographs of all the people brought in. I had visited the school & watched a documentary there nearly 4 years ago to the day I watched the Abu Ghuraib documentary. Here, a snippet from an email I sent back then:
Seeing the children's pictures was the hardest. Imagine toddlers staring back at u helplessly. And knowing that they had been thrown into the air and shot, drowned head first or had their heads banged against nails implanted in trees. My stomach dropped long and hard many times. I was this close to crying in public.

When the guide left me, I watched a documentary. After reading the books, seeing the rooms in which the people were kept, the pictures, the instruments of torture, the film proved very difficult watching. I longed for it to end. My stomach turned and turned. I struggled to keep composure. At the end of the hour, I stood up to leave quickly but there were far too many people ahead of me. I stood and waited and listened to my heart race. I have never been so chilled and claustrophobic in my life. I am easily susceptible and it really shook me. I ran down the school stairs, dodging the blood stains and into the courtyard. But everywhere there were the silent screams of the people. I re-entered one of the classrooms. I took one picture of the children's photos- to remind me how lucky I am when I start to become ungrateful one day- and one of a Muslim man. All religion had been banned, mosques had been turned into pig styes and men had been burned alive in temples. I left, wobbling and worn out.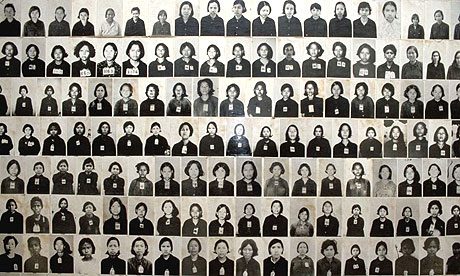 Days before seeing the Al Ghuraib documentary I had returned to Feltham Young Offenders Institute. It must have taken me 2.5 hours to get there, one reason I hadn't signed up as a mentor. That day though, one of the coordinators mentioned I could not just mentor a boy but get involved with rebuilding communication & supporting his family if he so wished. There are more boys abandoned than you would care to believe. I filled in the form. With all the training I have had as a coach it would make sense for me to get involved. I am also going to start a project working with youngsters at schools this Autumn inshallah.
There's a discussion/focus group that takes place for the Somali boys there every alternate Thursday morning. There used to be one also for Somali women but there weren't enough numbers so it was dropped. The only discussion group that now takes place regularly is made up of men. The discussion groups are open to anyone who wants to go and talk to the boys and help in whatever way they can. Get in touch with me if you would like to be part of the discussion groups. You can send me a message through the blog or email me at nomadicexpression@googlemail.com.
They would like to resurrect the women's group so the plan is to start it off after Ramadan. One young lady has been getting together Somali women from West London for this cause. If you would like to be part of the women's group discussion, please email me and I will put you in touch with the relevant people. Lest you think it won't make a difference if you attend, I ought to tell you that the Somali boys at Feltham have driven this resurrection- they have said they want mothers to visit them. Two of the boys I spoke with that day said they preferred the women as the men tended to lecture.
If you or anyone you know are known for being compassionate and a good listener, please consider this opportunity.
On that note- the message when I attend the discussion groups is that the family culture does not allow for open, collaborative talking, sharing & understanding. The boys find solace in the groups/gangs they hang out with and find them to be their family. Is it any wonder?
And finally, they need volunteers at these prisons:
Rochester:
Address:
1 Fort Road
Rochester
Kent
ME1 3QS
Belmarsh
Address:
Western Way
Thamesmead
London
SE28 0EB
Feltham
Address:
Bedfont Road
Feltham
Middlesex
TW13 4ND

Get in touch with me of you would like to be volunteers and I will pass you on.
One of the boys told me he was dished out a harsher sentence than average for what he did. However, accurate his interpretation of his sentencing may have been, this is a reality for young minorities; they do get harsher sentences than their white counterparts.
Potential miscarriage of justice and I'm standing there feeling imprisoned myself. The boy's head hangs heavy. His eyes search the ground for answers. Zaynab says we need more lawyers. I think we need more advocates, lawyers or not.
Zaynab and I have a mantra- there is so much to do. It can paralyse you into inactivity and apathy. Or not.
Choose. And spread the word.
Posted
on Sun, August 3, 2008 at 11:16AM
by
paradise
in Feltham Young Offenders' Institute
|
10 Comments
|
9 References
References (9)
References allow you to track sources for this article, as well as articles that were written in response to this article.