Entries in Feltham Young Offenders' Institute (13)
I watched the documentary, 'Standard Operating Procedure' last weekend; it wasn't exactly light entertainment. I took in a bottle of water; popcorn would have been disrespectful.
Two things struck me:
I didn't know they held children at Abu Ghuraib. I didn't know the army gave the soldiers there a two week amnesty to hand in(or destroy presumably) images.
I took a picture of myself before I left the house that day. I was thinking of the film I was to see and whether a photgraph could ever tell a full story. I ended up taking more than one; moulding the story I wanted to tell. Each one told a slightly different story.
The film made for uneasy watching; there is no satisfying ending; some of the photograph-takers are partly taking a record but still participating. It reminded me how easy it was for a negative culture to take hold.
The mention of the children at Abu Guraib reminded me of the school(now, the Tuol Sleng Genocide Museum) turned prison in Phnom Penh, Cambodia which saw 20,000 people come through it, only 7 surviving. Here too the Khmer Rouge took photographs of all the people brought in. I had visited the school & watched a documentary there nearly 4 years ago to the day I watched the Abu Ghuraib documentary. Here, a snippet from an email I sent back then:
Seeing the children's pictures was the hardest. Imagine toddlers staring back at u helplessly. And knowing that they had been thrown into the air and shot, drowned head first or had their heads banged against nails implanted in trees. My stomach dropped long and hard many times. I was this close to crying in public.

When the guide left me, I watched a documentary. After reading the books, seeing the rooms in which the people were kept, the pictures, the instruments of torture, the film proved very difficult watching. I longed for it to end. My stomach turned and turned. I struggled to keep composure. At the end of the hour, I stood up to leave quickly but there were far too many people ahead of me. I stood and waited and listened to my heart race. I have never been so chilled and claustrophobic in my life. I am easily susceptible and it really shook me. I ran down the school stairs, dodging the blood stains and into the courtyard. But everywhere there were the silent screams of the people. I re-entered one of the classrooms. I took one picture of the children's photos- to remind me how lucky I am when I start to become ungrateful one day- and one of a Muslim man. All religion had been banned, mosques had been turned into pig styes and men had been burned alive in temples. I left, wobbling and worn out.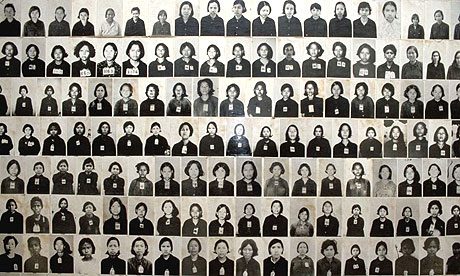 Days before seeing the Al Ghuraib documentary I had returned to Feltham Young Offenders Institute. It must have taken me 2.5 hours to get there, one reason I hadn't signed up as a mentor. That day though, one of the coordinators mentioned I could not just mentor a boy but get involved with rebuilding communication & supporting his family if he so wished. There are more boys abandoned than you would care to believe. I filled in the form. With all the training I have had as a coach it would make sense for me to get involved. I am also going to start a project working with youngsters at schools this Autumn inshallah.
There's a discussion/focus group that takes place for the Somali boys there every alternate Thursday morning. There used to be one also for Somali women but there weren't enough numbers so it was dropped. The only discussion group that now takes place regularly is made up of men. The discussion groups are open to anyone who wants to go and talk to the boys and help in whatever way they can. Get in touch with me if you would like to be part of the discussion groups. You can send me a message through the blog or email me at nomadicexpression@googlemail.com.
They would like to resurrect the women's group so the plan is to start it off after Ramadan. One young lady has been getting together Somali women from West London for this cause. If you would like to be part of the women's group discussion, please email me and I will put you in touch with the relevant people. Lest you think it won't make a difference if you attend, I ought to tell you that the Somali boys at Feltham have driven this resurrection- they have said they want mothers to visit them. Two of the boys I spoke with that day said they preferred the women as the men tended to lecture.
If you or anyone you know are known for being compassionate and a good listener, please consider this opportunity.
On that note- the message when I attend the discussion groups is that the family culture does not allow for open, collaborative talking, sharing & understanding. The boys find solace in the groups/gangs they hang out with and find them to be their family. Is it any wonder?
And finally, they need volunteers at these prisons:
Rochester:
Address:
1 Fort Road
Rochester
Kent
ME1 3QS
Belmarsh
Address:
Western Way
Thamesmead
London
SE28 0EB
Feltham
Address:
Bedfont Road
Feltham
Middlesex
TW13 4ND

Get in touch with me of you would like to be volunteers and I will pass you on.
One of the boys told me he was dished out a harsher sentence than average for what he did. However, accurate his interpretation of his sentencing may have been, this is a reality for young minorities; they do get harsher sentences than their white counterparts.
Potential miscarriage of justice and I'm standing there feeling imprisoned myself. The boy's head hangs heavy. His eyes search the ground for answers. Zaynab says we need more lawyers. I think we need more advocates, lawyers or not.
Zaynab and I have a mantra- there is so much to do. It can paralyse you into inactivity and apathy. Or not.
Choose. And spread the word.
Posted
on Sun, August 3, 2008 at 11:16AM
by
paradise
in Feltham Young Offenders' Institute
|
10 Comments
|
9 References
I watched Brick Lane last night. As I settled in I was sure I wouldn't enjoy the film as much as the book. Within minutes of the film unfolding I was propelled back in time to another time and place- Sihanoukville Cambodia days before that Tsunami, days spent reading under shades of trees on the beach and nights in a two-bed room overlooking the coast. This is where I read Brick Lane.
I try and return my mind to the present but the internal moving images are more compelling and I am drawn back to that time. It is night and I am deep in sleep; the stillness is complete and I am comfortable- used as I am to sleeping in strange places. I am woken suddenly from sleep by a repetitive sound, rat-tat-tat-rat-tat-tat, by the side of the bed; in the quiet of night it sounds menacing to my awakening mind and I jump upright and stand on the bed. The sound continues undeterred, I don't know what it is and in the pitch dark it is impossible to see this thing that goes rat-tat-tat in the night. I step to the back of the bed and leap toward the light switch, away from the sound near the bed and land on the lino floor by the door.
I flick on the switch and look. Nothing. I still hear the sound. Shifting my position I see a pool of water by the bed just where my legs would have touched had I swung out of bed after a night's rest. Above it, a trickle of water appears in the ceiling, falls and disappears into the pool below. Rain? I wonder. It was not a creature scurring across the lino floor but rain. A stench slams into my face and engulfs me- no, it is not rain either. I cover my nose and mouth. Urine. The pool sits there and releases its fumes into the room.
I scramble into the bathroom looking for something to mop up the mess with. I am certain it's cat pee, my dislike of cats propels me and I waste no time. There is nothing in the bathroom to use. I look around the room and my eyes settle on the rectangle of carpet at the door. I grab it and place it over the pool; I wait for it to absorb the fluid and move the carpet. I gag and tear up. What is the purpose of cats? Who insists on their survival?
Eventually I clear up the mess and leave the carpet outside the door but there is no hope of the smell leaving the confines of the room easily. I open the window and return to sleep in the other bed under the open window and merciful coastal breeze.
I smile at the memory. The film, the film….oh she isn't as I imagined her and the husband isn't as repulsive as I had drawn in my mind.
All through the film I am drawn back in time over and over. Somebody asked me recently what I got from travelling, did I find myself, did I change? I remember saying it was the first time I allowed myself to get close to people and I was changed in that way- more open, less afraid of people's baggage, their capacity to hurt. Inbetween watching the film- I preferred my Brick Lane movie, the one I saw when I read the book- I admitted to myself that it was more than that, it was more, it was love, I had fallen in love with mankind. Not quite the content of everyday conversation, not quite and yet it would be dishonest, ungrateful of me to deny that I was loved by strangers and that I learned to love unconditionally in that time.
In the quiet of the cinema it is hard to stay composed, up on the screen there isn't a scene that moves, any sniffles would be unwelcome, inappropriate. I struggle for composure but it gets worse, I remember my mother holding me in the weeks before I left to travel, crying because I was crying and I crying more because my mother was crying that I was crying. Rock bottom, that was home then and that moment when my mother asked how she could help, my unwillingness to articulate my grief to save her further pain, my fear I would diminish in her eyes left only silence and in that vacuum nature poured love. I still feel it; that certainty that I was loved. In the pain there was bliss. And so God teaches…
My mother's advice was to stop crying about everything. I nodded weakly. I left for India and cried for my poor pathetic self, so often did I touch and wipe my eyes I developed conjunctivitis. Now my eyes weeped even when I wasn't weeping. I would waken in the morning in another strange room and my eyes would stay glued together with retribution and I would have to remember what town I was in, the lay of the room and grope towards the bathroom and cleansing water.
What I could see through sticky, runny eyes though was poverty and struggle. Soon I forgot to weep for myself and weeped instead for others. My eyes cleared, my mosquito bites healed. I asked myself what the highlights of my trip thus far were and they were mostly centred around people. I remembered the female monk who found me one morning sitting forlorn only minutes after I had said, please God send me someone to talk to. And there almost instantaneously was a voice saying hello. We spent hours together; I remembered that I could laugh and laugh I did until I nearly fell off my chair. She was half white, half Native American, worked with black civil liberty groups in the 60s, became a monk in Nepal, taught in Thailand and was in India to do something special. She said, u know what? I said what. She said I think God sent you to me. And you to me I thought beaming.
As I moved from place to place, stopping to live in Cambodia(as one does), my capacity to give, do, help grew and grew; the more I did the more I got. And that is unconditional love- action separate from reward, the expectation of a reward irrelevant; the paradox- the less I thought about what was in it for me, the more I got back.
I let go of that new way of being when I returned home, not immediately but within a few months. Some of the old self-focus returned, people became problems, there was pain and struggle. My lesson hadn't imprinted itself well enough. Later I relearned and thrived; then I forgot and there was suffering this year.
Recently I visited some of the boys at Feltham, strangers in a strange land and we talked. What did we talk about? Regret, the past, the future, PS3s, books, family, xalwa, mothers, reality checks, violence, cells.. As they walked away at the end of the time we had together my heart strings felt a tug. Love, I remember.
Posted
on Sun, December 9, 2007 at 05:46PM
by
paradise
in Feltham Young Offenders' Institute
|
14 Comments
Grief.
From Feltham I have found myself in Guantanamo.
A book is to be published later this year containing poems written by Guantanamo detainees. Here's one:
Death Poem

By Jumah al Dossari

Take my blood.

Take my death shroud and

The remnants of my body.

Take photographs of my corpse at the grave, lonely.

Send them to the world,

To the judges and

To the people of conscience,

Send them to the principled men and the fair-minded.

And let them bear the guilty burden, before the world,

Of this innocent soul.

Let them bear the burden, before their children and before history,

Of this wasted, sinless soul,

Of this soul which has suffered at the hands of the "protectors of peace".
Article and more Gunatanmo poems.
It not enough, what I do, I am not doing enough. I have tripped in my own goody two shoes.
Tomorrow I must be at work again. Breakfast will be a Latte, skinny, who wants to be a fat do-gooder? Dressed smartly, who wants to be free and choose to dress in orange overalls, no sirree, you won't catch me dead in one of those! Talking, talking about the progress of the project, the deadline, the politics…a third of the day spent with an absent heart.
In the evenings I release my heart from its prison and read, write, call people and take calls from people who think I have answers. I have facts, let me show you- they look like you, are uninspired, disconnected, turning to crime and returning to their places of punishment with a frequency that makes me wonder if an urban monster roams the streets and chases them back in. Here, let me show you, a person that looks like you is no more likely to commit a crime but more likely… oh Gurbux Singh said it best on the 5th of September 2000 at the Howard League Conference(Look, see, I know my stuff!!) . He said:
"If you have been unfairly treated by the system, charged with a harsher crime than was appropriate, given a custodial sentence instead of community service, given a longer prison sentence than others committing the same crime, and been bullied and victimised while in prison , are you likely to emerge from prison as a sane, sanguine, reformed character?"
You don't need my answers, the facts they aren't mine, I carry them and on days like today they bear down on me and taunt me: More walking, less talking Firdos.
The other day I suggested I write stories, add them to the Ramadan packages we'll make for the men at Feltham and perhaps beyond. I thought the idea cute, then remembered some won't be able to read them so there may be need for audio recordings of the stories. Cute, very cute. Would the prison allow it? These are the thoughts that fill my time when I'm not polishing my goody shoes.
Now I think how quaint that sounds, really is that all that I can offer? I am doing that thing everybody does, limiting their reach. My head is filled with the reports, the stats, the names, the deaths, the culture of crime, the apathy, the guilt of.. I can't write today, where's that stream of consciousness when you need a sip? I thirst, I thirst too for answers.
I hear the sound of the sound of my own voice.
Am I too full of talk and talk alone?
Grief.
Posted
on Sun, June 24, 2007 at 03:45PM
by
paradise
in Feltham Young Offenders' Institute
|
5 Comments
She may be free now, released back to her luxurious paradise away from incarceration but she still won't be able to meet Shahid Aziz. Shahid was killed three years ago by his cellmate, Peter McCann, even though staff had been warned McCAnn was dangerous.
Do you know how they satisfied themselves of McCann's danger or lack of?
They asked him.
Yeah. They asked him.
He said No, he wasn't.
So they put him in a cell with Shahid and within hours McCann had slit Shahid's throat with a razor blade mounted on a plastic toothbrush, then strangled him with shoelaces and battered him over the head with a chair to "finish him off".
The prison had been at the receiving end of racism allegations; the Asian inmates had protested in the past and they were led by one Shahid Aziz.
Shahid had complained to a race-relations officer asking to speak with one and her response was, 'You are looking at one. Go away, not interested.'
The day before his death a probation officer warned prison staff McCann was so dangerous he was a risk to inmates. They did nothing with the information.
After Shahid's death, they took their time informing his family. The family has not yet had an apology.
Were they racist? Negligent?
Let's ask McCann.
Posted
on Thu, June 7, 2007 at 09:52PM
by
paradise
in Feltham Young Offenders' Institute, Prison Deaths
|
5 Comments
I don't know where to begin I've left it so long.
When the situation at Feltham crawled into a crevice in my conscience I didn't know how or where or who or what to do with it; it just made itself at home and I couldn't justify shooing away this new squatter. The story has been unfolding and what seemed like a chapter in my life is now more like one chapter in a many-chaptered book. This might even quite possibly become a book, a real-life book with real-life people and an author. Me. Who would have thought? My first book and this as a subject matter.
The story writes itself, I only give it voice.
The morning after I flew back from Marrakech I was at Holloway Prison and saw for myself some areas of the prison and some of the Muslim women at a get-together organised by Rukhsana- the Muslim Chaplain. I also saw for the first time the desire of other Muslim Chaplains to encourage the community to support the community of Muslims in, almost-out and out of prison. It is good to be part of the first befriending project for the Muslim women there. Can you imagine being part of what stops a soul from wronging herself so that she may soar free, untethered by unlawful acts, to truly be reposnsible with this powerful honour bestowed upon us, this honour called free will?
I've become part of a networking group honing in on the prisoners and their experiences and needs. We've had meetings and get-togethers. I have coached and spoken. The Imams eagerness to attend these events both encourages me and worries me. Listen:
At Wormwood Scrubs prison Muslims make 20% of the population and yet there are no Muslim volunteers. None.
The boys at Feltham are now 40 in number. There was a time when the number of Jamaican boys(at the time the majority ethnic group) were seen as high when they hit the upper teens. Now the Somali numbers are twice that. The numbers have been creeping up even in the time I have been immersing myself in this world. When you start hearing the stories, the numbers belie the magnitude of the problem. For each boy there is a family, a neighbourhood, a community damaged. For each victim of a crime another family, another neighbourhood another community damaged.
Muslims receive less support with accommodation, probation and reintegration.
"They suffer from a serious ostracism from their Muslim community, and sometimes their own families, thus increasing their isolation. The pressure produced by the current post 9/11 climate has also led some mosques to reject former Muslim prisoners because of the fear that the mosque could be accused of extremism and then closed."
..so says Dr Gabriele Marranci. Read this very intersting article on his research here:
Are you still listening?
We are just not there for one another.
How to help: get yourself to an Open Day at Wormwood Scrubs where you will find out how to join the volunteer programme, how to join in Friday prayers, how to befriend, help to reduce the reoffending rates by being there for somebody who has made it out. Room for one more friend in your life? Surely.
You will need to register with the Imam before the Open Day. This is where you need to be on Saturday the 16th of June 2007 at 2pm inshallah:
HMP Wormwood Scrubs
Du Cane Road
London
W12 oAE
It ends at 5pm. The Imam's name is Ibrahim Mehtar, his email address is ibrahim.mehtar@hmps.gsi.gov.uk, his number is 0208 588 3250.
Call him. What are you waiting for? The book? The movie? Be part of the story today.
God bless.
Posted
on Wed, June 6, 2007 at 08:11PM
by
paradise
in Feltham Young Offenders' Institute
|
2 Comments